A video of cocoa farmers in Africa's Ivory Coast trying chocolate for the first time has been making its viral rounds about YouTube today, as viewers watch and see the sheer delight that colors the faces of these hard working cocoa farmers after tasting their first bite of chocolate - ever.
While you would think cocoa farmers who spend their days harvesting the beans that make the coveted chocolate treats most of us enjoy on a regular (dare I say daily) basis would have at some point in time indulged in the sweet delicacy themselves, ironically, many of them haven't an inkling what the bitter tidbits they gather are used for in the "white man's" world.
In fact, for the cocoa bean farmers from M'batto, Ivory Coast, seen in the viral YouTube clip, it wasn't until Selay Marius Kouassi, guest correspondent for Metropolis TV, visited and offered them a taste of their first chocolate bar that they realized just why these beans were in such high demand.
As Kouassi offers the first cocoa farmer in the clip a square of chocolate, the man brings it to his mouth and instantly you see a look of pure delight fill his face -- he's hooked!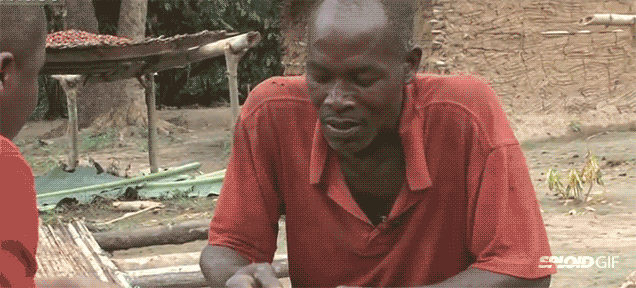 "I did not know that cocoa was so yummy!" he tells Kouassi. "Delicious!"
As the video proceeds, Kouassi carries the chocolate to more cocoa farmers to try for the first time, and their responses are much the same. Exclaiming over the sweetness of the treat and questioning if such a thing could really come from the hateful cocoa bean harvesting they spend their days complaining about, the men seem truly delighted to taste the chocolate for the first time.
One man exclaims, "This must be why white people are so healthy." While another questions Kouassi if chocolate was the reason his skin was lighter than theirs.
It's clear that tasting chocolate for the first time is a magical experience for these men and not one they'll quickly forget.
"We complain because growing cocoa is hard work," says one. "Now we enjoy the result. What a privilege to taste it."
Meanwhile another man folds the chocolate wrapper up and declares he'll take it home to show the children.
This YouTube video of cocoa farmers trying chocolate for the first time is sure to make you feel a little more thankful for the things we take for granted each day. (Photo: YouTube)
As the video comes to a close Kouassi informs the men that he has yet another bar of chocolate for them to share, to which they all begin to cheer and holler like children. Alfonse, the leader of the group calls out, "Continue hard workers! Continue!"
Although I have to admit tasting chocolate can do wonders for my spirit just about any day, any time, I can't say I've ever appreciated it more than after I watched this video.
Thanks for everything hard cocoa workers. Chocolate lovers everywhere are indebted to you.
WATCH: "Cocoa Farmers' First Taste of Chocolate in Ivory Coast" [VIDEO]