Tue, 02/04/2014 - 14:49
Games
Minecraft: PlayStation 4 Edition Teased In Latest Title Update 14 Photo From 4J Studios
Just under two weeks after giving fans their first look at Minecraft Xbox 360 Update 14, plus a sneak peek of Minecraft: Xbox One Edition, 4J Studios has released a new teaser image that offers sneak previews of additional Minecraft content and the world's first look at Minecraft: PlayStation 4 Edition.
It's been more than six months, since Mojang and 4J Studios confirmed plans to release a version of Minecraft on Sony's latest game console, but we finally have our first glimpse of Minecraft: PlayStation 4 Edition running on an actual console. Even better, the latest teaser photo from 4J Studios -- which also includes a shot of Minecraft PS3 as well -- confirms a handful of game additions that will be introduced whenever Title Update 14 goes live.
Last week, 4J Studios offered fans their first look at Minecraft Xbox 360 Update 14 via a similar photo; a bit of fan service that also included the world's first look at Minecraft: Xbox One Edition running on the latest build of the game. The two still-shots, captured in a single photograph, offered fans their first visual confirmation that Emeralds, Jungle Fortresses, and Iron Anvils would finally make their way to the console version of Minecraft.
Sadly, there's no word yet on when we can expect Update 14 to be deployed, but Tuesday's teaser image from 4J Studios did confirm a few more features for the next patch. By far, the easiest additions to spot are likely the Ender Chest and Carpets, though a number of fans have taken notice of the Wither Boss portrait that can be seen in the background on Minecraft: PlayStation 4 Edition. Some previously revealed items, like Tripwire Hooks and the Iron Anvil, make appearances in this week's Minecraft PlayStation 3/PS4 teaser photo as well. We've embedded a preview of the image below, but those looking to see the full-size photograph will have to head over to 4J Studios official Twitter account.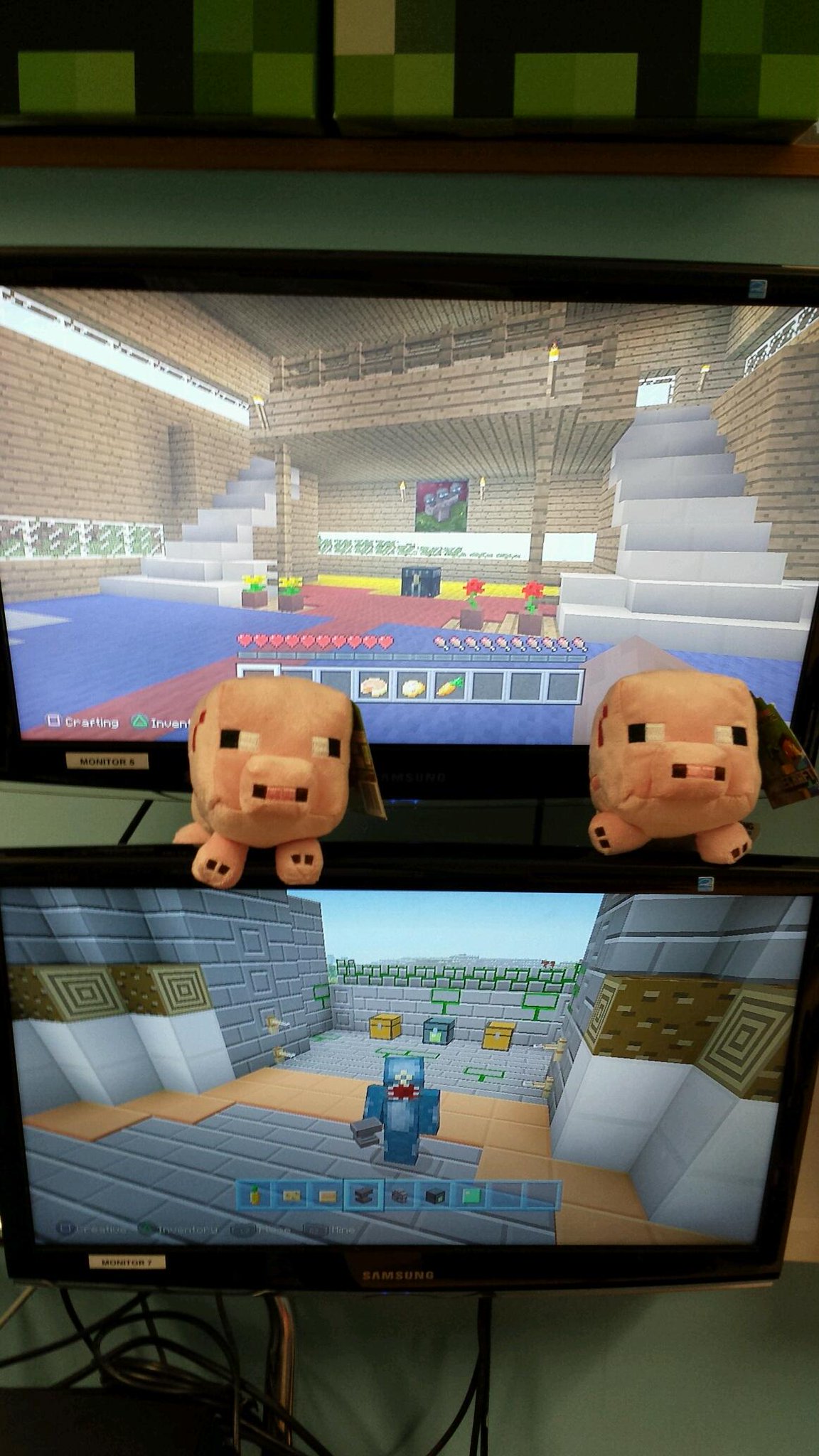 The team at 4J Studios is also celebrating the news that Minecraft Xbox 360 has now sold 11 million copies, and total sales of all versions of continues its slow trek towards the 30 million milestone. Mojang recently confirmed that the original Java version of the game has now sold more than 14 million copies, and the recently launched Minecraft: PlayStation 3 Edition has already cleared one million units, leading many (including yours truly) to believe that Minecraft PS4 and Minecraft Xbox One will easily push the game over the 30 million threshold.
Be sure to check back with iDigitalTimes.com and follow Scott on Twitter for more on Minecraft Xbox 360 and the rest of the ports being developed by 4J Studios as we keep tabs on each version of the highly-successful sandbox game for as long as Mojang and 4J Studios continue to produce new Minecraft content.
What do you think of the latest Minecraft teaser image from 4J Studios? Excited by any of the new Minecraft content confirmed for the console ports of the game? Still hoping to see 4J Studios confirm plans to include a particular block or feature from the Java version of Minecraft in Title Update 14?
Let us know in the comments section!
More Minecraft News:
Minecraft Xbox 360 Update 14, Xbox One Images Tease Emeralds, Jungle Fortresses, Tripwire Hooks And More
Minecraft 1.8 Update: Snapshot 14w05a Introduces Spectator Mode, New Mob AI And An Invisible Block
Minecraft PS3 Patch 1.03 Features Fixes For More Than A Dozen Remaining Bugs