[UPDATE 9/27 12:00am EST] 4J Studios have released the first teaser image of the the Plastic Pack, the first in a series of upcoming texture packs for Minecraft Xbox 360, and are promising more screenshots on Friday. The Minecraft Xbox 360 devs also confirmed that trial versions of the upcoming Texture Packs will be available once they go on sale. Head to the bottom of the page to see the first image from the Minecraft Xbox 360 Plastic Pack.
Follow Us
With work on Minecraft Xbox 360 Update 13 officially complete, 4J Studios is now turning their attention to the development and promotion of several new Minecraft Xbox 360 Texture Packs, and several world-altering additions to the Minecraft Store are already nearing completion.
First, 4J Studios will apparently release the Plastic Pack, and have said that the first teaser/promotional glimpse at the studio's custom Minecraft Xbox 360 Texture Pack will arrive sometime this week. It's unclear if that's also when the Plastic Pack will debut, though it's worth nothing that the Minecraft Xbox 360 Mass Effect Mash-Up Pack launched just 48 hours after its trailer was released by 4J Studios last month.
The Natural Pack will debut next, presumably sprucing up the flora and fauna that can be found in Minecraft Xbox 360, though there's little in the way of official information about the Natural Pack at this time either. The team also teased a Medieval Texture Pack for Minecraft Xbox 360, when asked about the seeming oversight by a fan on Twitter, but there's been no official announcement of a third pack at this time.
In addition to revealing the names of the first two Minecraft Xbox 360 Texture Packs, representatives of 4J Studios took a minute to explain a bit of the decision-making process behind the creation of Texture Packs, via a new post on Microsoft Studios' PlayXBLA.com community site. The team also addressed the most common question they've encountered since adding Texture Pack support in Minecraft Xbox 360 Update 12: Why can't we have PC texture packs?
According to the post, while the Minecraft Xbox 360 team would love to incorporate a number of popular texture packs for the Java version of Minecraft, quite a bit of behind-the-scenes work is involved in getting that content ready for release on the Xbox 360. Additionally, the number of contributors to any given texture pack can make it difficult/impossible to secure legal permission for all of the files in a given texture pack. 4J Studios hasn't given up though, and say they continue to work with Microsoft to try and find a solution for bringing popular texture packs from the PC to Minecraft Xbox 360.
[UPDATE] Here's the first image of the Minecraft Xbox 360 Plastic Pack: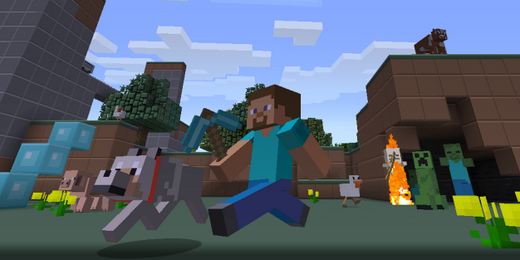 Be sure to check back with iDigitalTimes.com and follow Scott on Twitter for more on Minecraft Xbox 360, including all future texture and mash-up packs, as we continue to follow development of Minecraft Xbox 360 in the months to come.
What do you think of the news that the Plastic and Natural Packs will serve as the first official Minecraft Xbox 360 Texture Packs? Wish 4J Studios was going to be releasing some new Minecraft Xbox 360 Mash-Up Packs too? Have your own idea for a Minecraft Xbox 360 Mash-Up or Texture Pack?
Let us know in the comments section!
More Minecraft News:
Minecraft Xbox 360 Update 13 Submitted To Xbox Live Certification Team, Release Date Coming Soon
Minecraft 1.7 Update: Snapshot 13w38b Delivers Second Helping Of Weekly Bug Fixes
Minecraft Xbox 360 Mash-Up Pack Trailer Coming Sunday, Says 4J Studios [UPDATED]
For tips, complaints and observations on all things digital, email us at
tips [at] idigitaltimes.com
© 2014 iDigitalTimes All rights reserved. Do not reproduce without permission.